Here are The Top 5 Things to Look For
Planning your estate is an easy means to alleviate the burden on your loved ones following your death. It is important to make sure your wishes are carried out, but as with everything, pre-paid funeral plans have risks attached. When looking for a pre-paid funeral plan, you must exercise the utmost care.
To be considerate of your family, you should not place the entire financial burden of planning your funeral on them. In an effort to relieve your family of this expense, you have the option to pay for your funeral in advance with a pre-paid funeral plan purchased through a funeral home. To make things easier for your family during an already difficult time, pre-paid funeral plans have the potential to act as a good way to spend money to reach the Medicaid qualification threshold.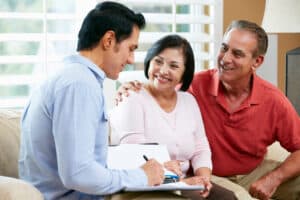 Nevertheless, every year when funeral homes go out of business before the need for a funeral arises, consumers lose money. There may be no way to recover your funds if the funeral home mismanages them. Customers are not necessarily entitled to refunds if they change their minds, and some funeral homes sell policies requiring additional payments.
There are five important things for you to consider if you decide to go ahead with a pre-paid funeral plan. 
1. Shop Around
Prices among funeral homes can vastly range, so checking a few different ones before deciding the one you want is a good idea. To promote transparency, the Federal Trade Commission's Funeral Rule requires all funeral homes to supply customers with a general price list that details prices for all possible goods or services. This clause also stipulates the items consumers cannot be required to purchase and the types of misrepresentations that are prohibited.
2. Make Sure You Have a Reputable Funeral Home
Unfortunately, there have been cases of funeral providers taking advantage of customers. Be sure to select a funeral home with an established positive reputation.
3. Carefully Read the Contract
Before signing you must understand what exactly it is that you are agreeing to. For example, if you move, is this plan transferable? Does it cover funeral services? Will your estate be responsible for covering additional costs if prices rise? Is the plan cancellable and refundable?
4. Find Out Where the Money Goes
The plan should provide information on what the funeral home will do with your money. While some states have protections in place to make sure the money is safeguarded, others do not. 
5. Ensure the Plan Won't Affect Medicaid Benefits
If you are buying the policy as part of Medicaid Planning, you have to purchase an irrevocable plan. This commitment indicates that you cannot cancel it once it is bought. 
Once you have purchased a plan, inform your family about your decision and where the documents are filled. If your family is not updated that you have selected a plan, the plan is useless.
If you want to look for the pre-paid funeral plan that works best for you, contact the Trust and Estate Law Office at (718) 333-2395