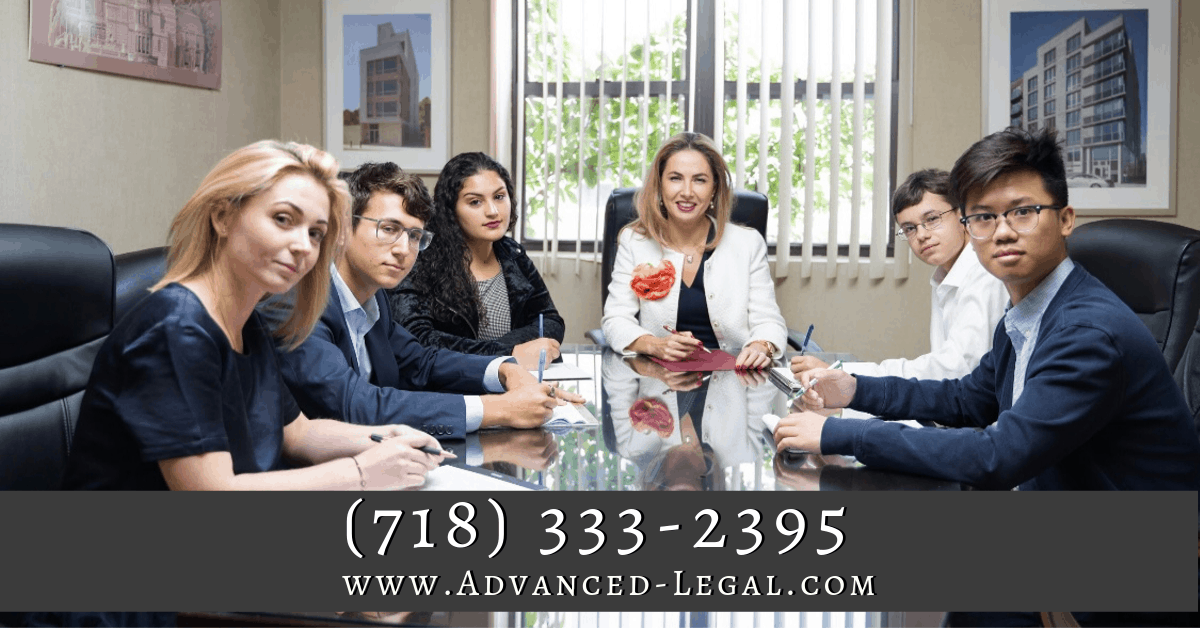 As a top Elder Care Attorney in New York, The Law Office of Inna Fershteyn handles all matters related to elder care and making sure that our clients are well taken care of in their later years. Our office can help you with the following elder care services in New York
Comprehensive financial planning to avoid paying for your nursing home stay

Creating a pooled income trust to allow your elderly to qualify for Medicaid while still having an income

Medicaid Planning to avoid nursing home bills

Preparing an estate plan, including revocable and irrevocable trusts to protect your assets

Preparing Medicaid Home Care Aid application

Establishing guardianship of disabled adults
If you are looking to find the best elder law attorney in New York., call award winning Inna Fershetyn at (718)  333-2395 to set up a consultation.
What Is Elder Law?
Elder law is a field of legal practice that deals with issues pertaining to the aging population. The purpose of elder planning is to prepare the client for financial freedom as well as autonomy in their later days.  A NYC elder law attorney will typically specialize in estate planning, asset protection, and Medicaid planning.
COVID19 Update:
Our Trust and Estate Planning Law firm is here for you when COVID-19 is affecting so much of our daily life.  In full compliance with Gov. Cuomo's directives, our office is open remotely.  As per Cuomo's Executive Order No. 202.7 we can execute and notarize all wills, trusts, power of attorney and healthcare proxy documents via VIDEO/AUDIO technology. As we are a TRUST AND ESTATE PLANNING LAW FIRM, we are offering 15 min WILL CONSULTATION.  Please call 718-333-2395 and we will accommodate you to the best of our abilities.
What does Elder Law cover?
Although the realm of services that an attorney may offer you may depend highly on your particular set of circumstances, a NYC elder care attorney will typically help you answer the following questions.
What will happen to you or your loved ones assets?

The best way to execute an estate plan.

Which documents should be prepared when creating an estate plan for you or your loved ones.

How your long-term care will be paid for.

How to ensure that your wishes will be carried out if you or your loved one become incapacitated, disabled, or unable to care for yourself.

The long-term care options that are best for you and unique to your situation.
What is Long-Term Care?
Long term care refers to a variety of services designed to meet an individual's medical and/or personal care needs for a relatively long period of time.
What is the cost of Long-Term Care?
The cost of long-term care is the primary reason why elder care planning is as big of an industry as it is in the United States. Long-term care is often costly, with monthly fees for nursing homes or assisted living facilities often being upwards of $5,000 (even higher prices are not uncommon).
What is a Pooled Income Irrevocable Trust?
A Pooled Income Irrevocable Trust is a legal structure that allows people with disabilities and senior citizens seeking public assistance with long-term care costs to spend down excess funds and become eligible for government benefits. For example, creating a pooled income trust may allow you to qualify for Medicaid home care, while simultaneously preserving your monthly income in the trust for things such as living expenses or supplemental needs.
What is Adult Guardianship?
Adult Guardianship is a legal procedure where a court rules whether or not an adult is capable of making rational medical and financial decisions on their own behalf. If the court believes that an individual has a disability that deems them incompetent and thus, incapable of making said decisions, a guardian will be appointed to handle these matters for them.
Why do Seniors Benefit from Elder Law?
The biggest benefit of elder care planning is the assurance that you or your loved one will be properly taken care of in their later days. Elder planning focuses on leaving you in a good financial position while having your health and personal care needs met by employing proper assets protection and financial planning.
Cal (718)  333-2395 to set up a consultation.
New York State Estate Planning Considerations
The main difference between elder law and estate planning in New York is that the aim of elder planning is to preserve your income and assets for use while you are still alive. With proper elder care planning you'll be able to maintain your lifestyle if you end up receiving government assistance (ie. Medicaid, Home Care) in your later days. Estate planning's primary purpose is implementing your wishes and distributing your estate after you pass away with as little of a tax liability as possible. The two often go hand-in-hand; without a comprehensive elder care plan to protect your assets you may find yourself without an estate to leave to your loved ones. On the other hand, you could have the best possible elder care plan, but if you die without a Last Will & Testament, a trust, and a number of other critical estate planning documents, there is no guarantee that your assets will be distributed to your loved ones in a way you would have approved of. This is particularly problematic if you have struggling relatives to whom you would've passed down assets to had you created a will.
Contact An NY Elder Law Attorney Today
With over 22 years of valuable experience in the field of Elder Law, the Law Office of Inna Fershteyn touts thousands of happy elder care clients. To speak with a New York Elder Law Attorney, call us today and schedule your very own Elder Care consultation!
Testimonials
Inna is the best elder care lawyer!  She set up a trust for me and my 3 kids, gave me college advice and was able to put my mind at ease.  Most importantly she is kind and professional and treats every person the way she herself wants to be treated.   I already recommended her to all my friends and family but I just want to say the feeling that I had working with her was that she was my friend. - Oksana Beytulla
Inna is an amazing lawyer! She helped my grandparents with their wills and trusts in a quick and efficient way. Her office is welcoming and has a great atmosphere, and established a close relationship with my grandparents right away. I would definitely recommend Inna Fershteyn for any legal services needed, whether you need estate planning, elder law services, or anything else. Thank you Inna! - Jennifer Kazouki
Inna is the most knowledgeable estate planning and elder law attorney in NY.  She has over 97 reviews and there is a reason for it.  She is a thorough, compassionate, dedicated and very experienced estate attorney - she knows what she is doing and doesn't waste client money.  I can not recommend her highly enough. - Sabrina Mangual
FAQS
How Can I Protect My Heirs?
Protecting your heirs means drafting a comprehensive estate plan that accounts for all imaginable scenarios. The first step is to write a Will, which is a document that provides instructions for how you wish your assets to be distributed to your beneficiaries after you pass. A will can also name a guardian for minor children who will need someone to look after and care for them in case you pass away while they are still minors. Establish a living trust to have some assets avoid the probate process which will save your heirs time and money in attorney fees.
What is the Best Way to Avoid Estate Taxes?
The four most common ways to avoid paying a hefty estate tax bill on your assets include: 1) Giving gifts, 2) Setting up an Irrevocable Life Insurance Trust, 3) Making charitable donations, 4) Funding a Qualified Personal Residence Trust.
Giving Gifts
Over the course of your lifetime, you can give out up to $11.4 million of your estate as gifts before having to pay the gift tax.
Setting up an Irrevocable Life Insurance Trust
By transferring over your life insurance benefits to a trust, your death benefits are no longer counted as part of your estate as long as the trust is created more than three years prior to your death.
Making charitable donations
Another way to bypass estate taxes is to transfer a part of your estate to charity through a Charitable Trust.
Funding a Qualified Personal Residence Trust
A QPRT transfers ownership of your home into a trust while allowing you to continue living in your home without paying rent. With this type of trust, a term is set - after the term ends, your beneficiaries take over ownership of the property; if you die before the term end, the property will still be counted as part of your estate.
What Happens if I Die Without a Will?
When someone dies without a will New York State will distribute the estate among relatives according to New York State laws of intestate succession. This means that the distribution of your property may not be conducted in a manner that aligns with your wishes. Some of these laws state: If there is a spouse, but no children, the spouse inherits everything. If there are children, but no spouse, the entire estate is divided among the children. If there is a spouse and children, the spouse inherits $50,000 plus half of the value of the remaining estate. Everything else gets divided among the children. If there is no spouse and no children, any living parent(s) inherit everything. If there are no parents, children or spouse, any living sibling(s) inherit everything. If there are no parents, children, grandchildren or spouse, then the inheritance will be divided among any living grandparents, their children, or their grandchildren. If there is no family as outlined above, then the property goes to the state.
Do I Need a Living Trust If I Have a Will?
Although living trusts and wills both allow you to designate beneficiaries for your assets, beyond that, they are useful for very different purposes. While living trusts can be used to avoid probate, they are more complicated to draft than a will, and unlike a will, they cannot be used to designate an executor or guardians for your children.
How Do I Know if I Qualify for Medicaid?
Medicaid is a joint Federal-State health insurance program that provides free or low cost to millions of Americans with disability or low income. Take a look here for information on how to qualify.
What Questions To Ask An Elder Law Attorney?
How much preparation is required on my part?

How do I avoid probate?

How do I avoid estate taxes?

How do I protect my assets?

How to plan for end-of-life care?

What about appointing personal representatives?

Do you have experience with similar situations?
Our Mission
Every client is unique from his or her interests, problems, and legal needs. We are dedicated to providing each client with the best possible service. We work closely with them to develop a legal strategy that focuses on achieving these goals. We want to help them avoid any negative consequences and take the worrying out of unprotected assets, estate planning, wills, trusts, Medicaid fraud, Medicaid planning, and elder law. Let us guide you through the stressful process and help you reach a peace of mind. We will be there to walk you through the process one step at a time.
We serve Clients all throughout the New York City five boroughs including Manhattan, The Bronx, Queens, Brooklyn and Staten Island, as well as New Jersey. We are frequently referred to and sought out by other financial, accounting and NYC law firms to assist on cases.