There are many ways an elder care attorney can help you get approved for Medicaid. Medicaid is a joint federal and state program that covers medical payments, such as hospital care, physician services, and long-term care in nursing homes for individuals with financial need. Individuals of low socio-economic class are unable to cover the costs of medical care out of pocket and therefore rely on Medicaid for aid. Applying for Medicaid is a very difficult and lengthy process, as the questions being asked within the application have great depth and implications for your future. The foundation system responsible for asking the questions that define your eligibility for Medicaid purposely selects specific diction and word choice which may make it challenging for elderly individuals to effectively answer the questions. Answering these questions incorrectly or inaccurately could place your potential coverage in jeopardy, meaning you may not qualify for the aid you need to cover your medical costs. Considering that these questions are the main defining factor when it comes to obtaining Medicaid coverage, family members should seek guidance from an experienced Elder Law Attorney to guide them through this imperative process. The attorney is highly experienced and familiar with New York state's rules when it comes to long-term care planning and receiving government benefits.The Elder Care Attorney will use her experience in the field to devise the most effective plan in assisting the family by selecting strategies that align with the family's personal and financial circumstances.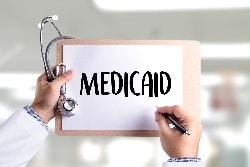 Differences Between Medicaid and Medicare:
Medicaid and Medicare are often confused, as both provide medical coverage to individual applicants. However, there is a grand difference between both programs based on the qualifications and the services provided. Medicaid is directly managed by the state and federal government, which correlates with an individual's income to calculate their estimated extent of need. Medicaid covers low-income individual's medical care regardless of their age. Medicare, on the contrary, typically applies to individuals over the age of 65, and in some cases covers the costs of medical bills for individuals with disabilities at any age. Medicare patients pay part of the costs through deductibles for hospital coverage and small monthly premiums for non-hospital coverage. Expenses that are not covered by Medicare will have to be paid out of pocket or with the help of a private long-term care insurance policy. 
Benefits of Medicaid Coverage:
New York Medicaid benefits pertain to regular examinations, immunizations, and doctor visits. Coverage also extends to medical supplies and equipment, lab exams, X-rays, dental, and vision. Medicaid is beneficial in regards to covering nursing home service payments, hospital stays, emergencies, and prescriptions. Medicaid coverage is extremely helpful for individuals who cannot afford to pay the costs of their medical healthcare independently. This is a great stress reliever and minimizes the pressure on loved ones who worry about paying for their own care or their family members' care. New York state Medicaid covers essential dental services that are medically necessary, such as extractions to prevent disease. Medicaid will provide a reimbursement for eye examinations every two years and glasses when medically necessary. Medicaid may also cover the cost of contact lenses with prior authorization. Medicaid guarantees that medical professionals will select the most cost effective options when prescribing a patient's medication, which in most cases is simply the generic brand. Medicaid may also provide reimbursements for over the counter products. New York Medicaid also provides emergency and non-emergency transportation services to beneficiaries. 
Medicaid Eligibility Requirements:
Medicaid eligibility depends on your household size and your earned income. An individual with assets and income that exceed the designated Medicaid requirements will not be eligible for coverage. This means that individuals entering nursing homes will be considered private pay residents and must continue to spend down until they become eligible for Medicaid coverage. There is a five year lookback period involved regarding any gift given to heirs,which may result in a Medicaid penalty or completely prevent you from meeting the qualifications of Medicaid coverage. This is established to prevent Medicaid applicants from transferring their large assets to their children and then claiming they have a financial need for coverage. The lookback period is exactly 60 months, which is five years from your application date. The applicant's home is not considered as assets, but the estate pay be billed for services provided after the individual passes away. Vehicles, household contents, prepaid burial funds, and an IRA or 401(k) plan are all excluded from the asset calculation process that determines if you are eligible for Medicaid coverage. If the applicant is married, then both spouses' income will be considered in the effort to grant coverage, even if only one spouse is in need of Medicaid. A spouse that will continue to reside in the home when the other spouse enters nursing home care will be able to keep half of the assets with some additional income for support services, as long as this amount meets the maximum quota.
Elder Law Attorney Assistance in Applying for Medicaid:
An experienced and esteemed Elder Law Attorney can assist you in the process of applying for Medicaid coverage in a variety of methods. One such method is guaranteed avoidance of potential penalties that you may have been unaware of had you decided to file for Medicaid without the help of a lawyer. There are numerous questions that seek to identify if the applicant has made any disqualifying transfers that would result in a penalty. The most common question that correlates to the Medicaid penalty prospect is the prompt asking if the applicant has made any gifts or transfers for less than fair market value within the last 5 years. If you hire an Elder Care Attorney, the lawyer will ensure that you do not have any penalties that would prevent you from obtaining the Medicaid benefits you deserve. The attorney will be well aware of any of the exceptions that will prevent you from earning a penalty and will therefore assist you in the process of qualifying for Medicaid. Hiring an Elder Care Attorney enhances the probability that your application is approved, therefore increasing your chances of obtaining Medicaid coverage. Additionally, another benefit to hiring an Elder Care Attorney to assist in filing for Medicaid coverage is the establishment of effective spend down plans. In order to qualify for Medicaid many married couples must participate in the Spend-Down process, which pertains to the prospects of saving assets when only one spouse needs Medicaid. The purpose of this process is to ensure that the individual in need of long-term care receives the aid they need, while also guaranteeing that their spouse has the financial means of remaining in their home and covering the cost of all their living expenses. An Elder Care Attorney may assist in creating a personal care agreement that enables the senior to provide monetary compensation towards their family caregiver, while also participating in the Spend-Down process. Additionally, the attorney can aid in renaming bank accounts and real estate titles in the effort to enhance the applicant's eligibility for Medicaid. The attorney will use her experience in the field to answer any inquiries you may have regarding the application process and determining whether you and your loved ones qualify for coverage. 
For further Medicaid eligibility information please contact the Law Office of Inna Fershteyn at 718-333-2395 to effectively complete the Medicaid Application.