Laws tend to be very strict and there is not much flexibility when it pertains to a loved one's healthcare. These laws involve who can make medical decisions, receive status updates, and be involved in conversations with medical professionals. Though these laws intend to keep confidential information private, they can be troublesome for those who are caregivers for their family. There are ways around this but the legal permissions must be established beforehand. If you wait until they are required, you will not be guaranteed the best outcome as they will be more effective if prepared in advance. Many families do not realize they require legal documents to take care of the ones they love, causing them a handful of stressful situations when they need to make medical decisions for a loved one but aren't allowed to legally. This may lead to a situation where you are legally not allowed to make any medical decisions for them or even access their medical information. An option some individuals choose is going to court and petitioning for guardianship in order to allow them to be able to make these decisions. This all could be avoided if families work and prepare all the necessary documents in advance with an Elder Care attorney, so you aren't stuck with the harder and more expensive option of petitioning for guardianship.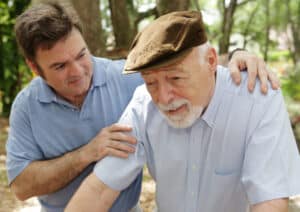 What Three Documents Are Needed?
HIPAA Authorization Form:

This document which is short for the Health Information Portability and Accountability Act indicates the standards for keeping an individual's medical information and all records private. This makes it illegal for any medical professional to release your medical information and records without it being at the request of the patient for which this form is used. This is a very important form, and all families should be in possession of it as HIPPA forms give authorization to doctors to keep specific family members informed of their loved one's medical status. It is a simple form that is not hard to complete and a blank one should be available at most doctor's offices for patients. Just let your loved one sign the form and this will provide you with access to all their healthcare information.

Power of Attorney:

This document has many names, two of them being, medical power of attorney and health care proxy document. This document essentially allows an individual to designate a loved one or any one of their choosing to handle healthcare decisions on their behalf if they become unable to. With a HIPAA form, you are allowed to have access to an individual's medical records and information, but with a power of attorney you are also designated to make medical and healthcare decisions on their behalf as well. When preparing this document though, the person granting this access must be in the right mind or this document can not be executed. This is to ensure the individual who needs the care is choosing a trusted individual that they believe will honor their wishes if they were to become incapacitated.

Advance Health Care Directive:

This document is also known as a Living Will, and allows an individual to indicate their wishes for end-of-life care before any medical emergency. End-of-life decisions are extremely hard on families and a Living Will will help avoid the pain this brings to your loved ones and allows them to know what you would have wanted. This document can specify the treatments you want or do not want and other medical decisions. One of the most important parts of this document is for an individual to indicate if they want any form of resuscitation to occur if they stop breathing and if they agree to be put on a life support system if needed. These decisions are extremely difficult to make and should not be left for your family, as it will only make the situation harder when you can make it simple by preparing these documents in advance.
Preparation in Advance Is Necessary
It is extremely important for these documents to be prepared beforehand as they will be there if a medical crisis occurs in your loved one's life. Once a healthcare emergency occurs, it will be too late to prepare these documents. Sitting down with your family and having a conversation about preparing these documents in case a situation may occur in the future, will spare you and your family from any unnecessary stress and uncertainty. Health is not guaranteed so all adults should discuss their wishes with their families while they still have their health.
How Can an Elder Attorney Help
Unfortunately, many families do not start to look into Elder Care planning until a medical crisis occurs. This is why this conversation should happen in advance in order to ensure this crucial step of Elder Care planning is in place and your loved ones are taken care of. Indicating your interests is the first step to take in your Elder Care planning journey. An Elder Care Attorney can help make this process easier and help you and your family stay informed of all your options to ensure your interests are met. An attorney will not only draft all these crucial documents but will help ensure these documents are accurate and legally binding. Having this conversation with your family is hard enough, so hiring an Elder Care attorney will allow you to create the best plan and guarantee you won't have to worry if you or your family face a medical crisis. As a part of your Elder Care planning, an attorney will help with the HIPAA forms, drafting of the Power of Attorney, and drafting of the Living Will, so you and your family have the peace of mind that there is a plan in place in case of medical emergencies.
For further information on how to start your Elder Care planning please contact the Law Office of Inna Fershteyn at 718-333-2395 to obtain aid in the drafting of legal documents and help with any of your Elder Care needs.