Coming to terms with a loved one's deteriorating mental health is never easy. However, if their mental health reaches a point where they are unable to make decisions, it may be necessary to look into obtaining guardianship of their care. A senior guardian is granted legal authority by a court to make decisions for their loved one who is no longer capable to do so themselves. An individual that a court decides is no longer able to care for themselves is called a ward. A senior guardian oversees a ward's daily care or financial transactions, and sometimes both. If you are considering obtaining guardianship, it is important to become informed of both the required time commitment and emotional demands. It is crucial that you also understand the constraints this may place on your newly evolved relationship due to the necessary limitations placed on the ward's independence.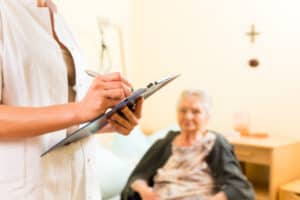 Types of Guardianship and Guardian Responsibilities
When an individual is deemed mentally incompetent in a legal setting, they are named a ward of the state. A senior guardian, often a loved one, is then granted the power to oversee their care. Guardianship is divided into two categories that deal with different aspects of the individual's needs. The first category allows the guardian to oversee the ward's daily care. On the other hand, the second category grants the guardian power to oversee the ward's personal and home property. There are also instances in which the guardian is granted full oversight over both; this type of guardianship is known as full or plenary guardianship. This oversight may be granted to one guardian or split amongst two individuals according to daily care and property management. They then must work together closely when making important decisions concerning an overlap of the two.
Guardianship of the Person
Guardianship of the person administers oversight of the ward's daily life: medical, residential, and social decisions. If appointed as a guardian that presides over these decisions, the responsibilities may include: 
Release of confidential information

Oversight of residence

Determination of residence location

Applying for government/medical benefits

Providing consent for medical treatments

Making end–of–life care decisions

Making sure their care is managed in the the least restrictive way possible

Reporting to court at least once a year
Guardianship of Property 
This guardian is also known as a guardian of the estate: someone who manages the ward's finances and property. First, an appraisal of the ward's income, assets, and debts, must be assessed. Then, the estimate must be filed with the court once a legal guardian is appointed. The guardian must always keep the ward's funds in a separate account from their own and cannot allocate these assets/income toward their own needs.
A guardian of the property may have the following responsibilities for a ward:
Deciding how finances are handled;

Applying for and managing government benefits 

Making investment decisions;

Paying bills, rent, and taxes

Keeping detailed records of all income and expenditures;

Requesting prior court approval for the sale, donation, transfer or mortgage of their property

Reporting to court at least once a year with a complete account of finances
** Sometimes, when a guardian applies for and manages government benefits on behalf of another individual, a power of attorney is required. An elder law attorney can professionally and adequately prepare a power of attorney that proves a guardian has the legal right to act on behalf of another individual. A POA guarantees an agent the right to act on behalf of the principal. 
Accepting the Role of Guardian
There is no denying that accepting guardianship of a loved one is an extremely demanding emotional process and is time consuming. When a guardian obtains oversight of a ward, they are agreeing to surrender an individual's independence to their care. This is difficult to come to terms with and often a rigorous process determining when to allow independence and when to place constraints on it. It is also important to understand that every case is unique and what may work for one ward/guardian relationship, may not work for another. A guardian agrees to take on the role of protecting their ward from abuse, exploitation, and neglect both from themselves and their environment. Before accepting this decisive role, it is important to voice your concerns with other family members. It is crucial that you are confident in your answers to two questions: Do I have the time and emotional strength to qualify for guardianship of this individual? Is there someone else I know that would be a better fit? Once you have the answers to these questions, it is important to obtain professional legal advice and elder law administration.
For all of your elder law planning needs, please contact the Law Office of Inna Fershteyn at (718) 333-2395 to receive help in obtaining guardianship.