If you have an aging parent who needs additional assistance, it can be a challenge. If you are caring for your parents from a long distance then there may be additional considerations. Read ahead for seven tips on how to take care of your elderly parents long-distance.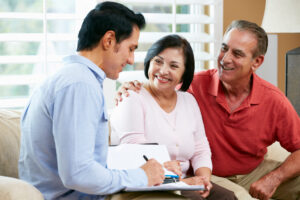 1.) Plan Ahead
Planning ahead and establishing a good system to check-in and care for your elderly parents as early as possible is a great first step, especially when you don't live near your parents. When your parents are in good health, both physically and mentally, it will be the best time to draw up legal documents, find important papers, and get their home prepared for the challenges of aging. By planning early on, your worries will decrease later on as you have plans and protocols in place. 
2.) Meet Your Parents' Neighbors
Because you live far away from your parents, visiting them is always a nice idea. While on your trip, assessing their health and support system is also a good idea. You can make a note of your parent's environment and neighbors. Meeting your parent's neighbors is a great start to creating a support system. Usually, neighbors are only steps away and would hopefully be okay with dropping in for a quick check or hello. 
Establishing good relationships with your parent's neighbors, and having their phone numbers on hand, will decrease your worries as you know that help is close by. Sometimes, neighbors may be the first to notice any unusual behaviors or a decrease in activity. Also, if you are unable to reach your parents, you can call their neighbors who can reassure you that your parents are okay and possibly just out of reach from the phone.
3.) Make and Keep Copies of Important Documents
Make sure to make copies of any important documents regarding your parents that you may need. Some of these documents include: insurance cards, medical history, names and numbers of your parent's doctors and pharmacy. Your parents may have important legal documents that you should have copies of, including copies of any estate planning documents like a will, health care proxy, and power of attorney. By having your own copies, it could even help your parents if they one day can't find papers you know are in the house.
4.) Evaluate the Home
While visiting your parents' home, doing a safety check is another great idea. You can help clean up clutter and unused items. As your parents age, the risk of falling and injury increases, so ensuring that their home is hazard free is important in order to prevent injuries. If your parents need further safety features, you can consider installing grab bars or any other installations recommended by doctors. If your parents live in a suburban area, hiring services like snow removal or yard maintenance companies can also help as they keep the land clear from ice or branches.
5.) Managing Their Medication
If your parents are taking numerous medications, you might worry that they can either forget their daily medication or mix up their medication. Nowadays there are services available that can package daily medication and send it in the mail. If your parents receive medication from multiple pharmacies, consider consolidating them into one nearby location so they can have an easier time picking up medication. 
6.) Transportation Services
A transportation service can be extremely helpful if your parents do not drive, or if driving may no longer be possible in the future. Senior transportation services can also ensure that your parents remain active and can go out for leisure and to fulfill obligations. 
7.) Legal Issues
A widely neglected aspect of caring for aging parents revolves around legal issues and estate planning. If your parents have already established an estate plan, make sure to have copies of it in case they cannot find it. If your parents have not yet established an estate plan, and are still in relatively good health, it is important to sit down and talk to them about their estate plan. By having such discussions, they can let you know their wishes should anything happen to them. Once decisions are made, you and your parents should consult an estate planning attorney who will let you know the best legal courses to take to make sure their wishes can be carried out. 
If your parents would like to create an estate plan, please contact the Law Office of Inna Fershteyn at (718) 333-2395.