A Power of Attorney (POA) is the most important document needed for estate planning. A POA grants an individual, known as a principal or grantor, the right to make health and/or financial decisions for someone else. Seniors usually appoint an adult child as their grantor as their mental and/or physical health deteriorates. While the legal process of obtaining a POA may be quick, the emotional burden is a heavy one. Family members often argue over who can be trusted and will treat their duties with the utmost responsibility. In order to decide who qualifies under this position, it is important to understand what a POA is and what actions the grantor has control of.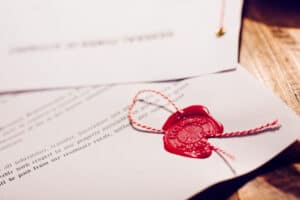 Common Factors in Deciding Who To Name as POA
In many cases, a senior acknowledges their eldest child or child that lives closest to serve as a POA. However, in other cases individuals choose to take other factors into consideration before making a serious decision. Seniors will make their decision on preconceived notions of their child's history maintaining their personal finances. If the elder knows that their son/daughter is thousands of dollars in debt and spends their money carelessly, then they will be less likely to trust them as their POA. In contrast, if a child is in a related profession, then the elder will be more likely to trust them with control of financial or medical decisions. Professions such as nurses, doctors, bankers, and accountants fall under this category. 
Potential Problems Naming Joint or Co–Agents as POA
At the same time that seniors may have a difficult time determining who to acknowledge as their POA, their children may also not want to take on the role. When the senior finally chooses who to name their POA, other children may exhibit emotions of disappointment and/or anger. Picking one child over another implies that the latter is unfit to take on the responsibility. To prevent a feud from occurring, there are ways in which responsibilities can be divided between siblings. 
POA obligations are divided into two categories: medical and financial. Of course, one individual may take on both obligations, but it is also possible to split them between two people. By granting separate responsibilities to each child, they will feel that their perspectives are equally viable in determining their parent's elder care. It also allows them to work together as a team when the two obligations cross paths. 
An alternative option is to name consecutive agents when drafting a POA. In this scenario, if a designated grantor is unable or refuses to uphold their obligations as POA, then a secondary agent will take over their position. While this may not improve present sibling tensions, it highly guarantees that a responsible individual will preside over the elder's decisions. In this case, even if a child refuses to serve as POA, there will always be someone to take on the role in consecutive order as listed by the elder. It is always a good idea to have a backup plan to ensure the elder is taken care of at all times. 
A more likely solution to a sibling feud is to name them as co–agents in the POA document. Co–agents have an equal say on all decisions made for their parents easing tensions between the two. However, it is important to note that not all states allow for a co–agent option and also vary in the ways in which these two can act on decisions together when drafting POA. To find out whether co–agents are a feasible option in your state, it is best to consult with an experienced and knowledgeable licensed attorney. On the downside, co–agents are granted joint powers of attorney, meaning they cannot make independent decisions on any matters. Therefore, when naming co–agents, it is crucial that the two individuals have established a positive and productive relationship. Once again, this legal binding only exists in some states. To find out whether co–agents may act independently in your state, you should always consult with an attorney. 
The POA Decision and Potential Family Aftermath
Some families do not face any obstacles when appointing POA. However, the hardships commence when the agent begins to administer their duties. Oftentimes, siblings disagree over whether the agent carries out their duties in an efficient and responsible manner. 
Questioning the Validity of the POA Document and Actions of the Agent
Sibling rivalry oftens unleashes conflict over POA. Siblings who aim to sabotage the named POA will accuse them of taking advantage of their mentally disabled parents. In some cases, they may accuse them of forcing their parents to sign a POA even if it was signed under legitimate circumstances. Unfortunately, even if the agent has abided by all legalities, these accusations may lead to a long and stressful investigation. 
Unwilling to Follow the Principal's Wishes
A designated agent must uphold a legal responsibility to ensure that all decisions are made in the best interests of the individual they represent. Even if personal opinion conflicts with best financial or medical interests, the agent must put their opinion aside. For example, a Do Not Resuscitate (DNR) order often classifies as a conflict of interest. If an agent does not follow the principal's wishes, they can be sued at any time. 
When the POA is not the Hands-On Caregiver
Issues tend to arise when the appointed POA is not the same individual that provides full time care to the principal. This creates animosity between the caregiver and POA. For instance, it is frustrating if one sibling lives with and cares for their mother, while another sibling has full control over medical and financial decisions. This situation may cause miscommunication and/or lack of agreement on what is best for the principal. 
For all of your elder law needs, please contact the Law Office of Inna Fershteyn at (718) 333-2395.