With old age comes an inevitable decline in one's cognitive and mental health, complicating the process for seniors in the midst of their legal planning. If you are a senior who is making arrangements for your future, you might consider adding a Letter of Competency to your file of legal documents. Obtaining a Letter of Competency is especially crucial if you believe there might be any contention regarding the validity of your documents. A Letter of Competency will prevent your documents—such as your will and Powers of Attorney—from being challenged by an incompetency claim. By eliminating any doubts or questions about your mental capacity at the time that your documents were being prepared, you can minimize the chances of familial discord arising.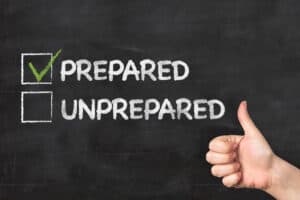 Reasons for a Letter of Competency
While it is impossible to predict whether a sibling, grandchild, stepparent, or other family member will challenge the validity of an aging loved one's legal papers, it happens often. Some of these cases even end up in costly and time-consuming guardianship proceedings. Others lead to legal proceedings in which the will of a loved one is contested. These arguments can tear families apart and destroy relationships.
It seems superfluous to ask for more proof of mental capacity when revising or creating legal documents, but there is no harm in prevention and protection. The time and energy required to attend a doctor's appointment and receive a letter of competency is minimal compared to the emotional turmoil and legal costs associated with a trial or investigation by Adult Protective Services (APS).
How a Letter of Competency Works & Who Can Provide One
The certificate of competency is usually written by a primary care physician who is familiar with the patient's initial physical and mental health changes. In some cases, it may be a good idea to obtain this letter from a doctor who specializes in cognitive or mental health, such as a neurologist or psychiatrist.
Obtaining a letter of competency at the time one's will, Power of Attorney forms, advance directive, and any other legal documents are drafted and signed will help dispel any suspicions that these documents were produced while lacking the mental capacity to make sound medical, financial, and legal decisions. 
Attorneys are prohibited from helping incompetent individuals change or create legal documents, but the legal definition of incompetence is slightly different from the medical definition of mental capacity. To ensure that a person can make legal and medical decisions about their health care, finances, and property, any doubts about the validity of their documents should be removed.
What a Letter of Competency Includes
A Letter of Competency should be printed on the physician's letterhead and include the following pieces of information:
The patient's name & date of birth

The date on which the patient-physician was first established 

The physician's statement affirming the patient's ability to make independent decisions regarding finances, legal matters, and healthcare

Relevant medical diagnoses & each of their dates

The physician's contact information
In addition to the information mentioned above, it is wise to work with an elder law attorney to determine if any other facts or supporting evidence should be included in the letter. The original letter should be filed with the corresponding legal documentation and kept in a secure location. Your attorney should also have all of your documents, including the letter, readily available. It is recommended that your physician keep a copy of the letter in your medical file as well.
How to Obtain a Letter of Competency
This letter may be requested from a primary care physician with whom the patient is familiar and has an established relationship. The physician should be able to recognize any changes in the patient's baseline mental and physical health. In certain cases, it may make more sense to request the letter from a specialist in mental or cognitive health.
An attorney should be able to determine when it is necessary to obtain the letter from a specialist rather than a primary care physician.
The basic legal planning recommended for seniors can be a confusing and lengthy process to navigate on your own. Taking every precaution to ensure the legal validity of your documents will reduce the potential for dispute in the future. If you need a highly qualified and experienced attorney to guide you through this process, please contact the Law Office of Inna Fershteyn at (718) 333-2395 to have all of your questions answered,