All of your life your parents have always been there to support you and guide you through your development. As a child, your parents taught you how to feed yourself, dress yourself, and helped you do all your homework. Then, when you got older, your parents were there to give you advice on which college to go to and which career would be a perfect match for your passions. They were there to support you during your marriage and took care of your children when you went to work. Your parents dedicated their lives to caring for you and now the roles have reversed. Now, it is your turn to take care of them. This can be an extremely stressful task, as it is hard to allocate time to caring for your parents, caring for your children, and working full time. At the same time, it can be even more stressful leaving your parents in the care of strangers because you can't be there to care for them. The best decision in this case is to refer to an Elder Care Attorney for guidance in making the best decision for your family.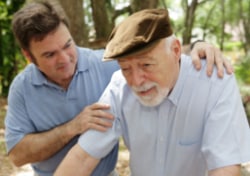 An Elder Care Attorney can assist you in drafting a power of attorney and healthcare proxy.
Power of Attorney:
A power of attorney gives an individual the right to act on your behalf. There are four types of power of attorney documents that are mostly commonly utilized. These include General Power of Attorney, which means the document comes to a close when the principal becomes incapacitated, revokes the agent for the power of attorney, or passes away.The power of attorney has the power to make medical decisions on behalf of the senior in need of care. A Durable Power of Attorney enables the agent to maintain power even once the person becomes incapacitated. This implies that they can make decisions for the senior even once the senior is not in a clear and present state of mind. A Special Power of Attorney gives the agent specific limited powers within a specific area. Lastly, a Springing Durable Power of Attorney comes into place when a specific event causes the principal to become incapacitated. This document must be prepared while the individual is still competent to ensure that the agent has the power to make all of these imperative decisions when the time comes. A Power of Attorney allows the principal to appoint a specific agent who will act on their behalf in the case that they become incapacitated. Therefore, this individual must prioritize the needs and preferences of the principal by making imperative decisions. These decisions pertain to finances, healthcare, recommending a guardian, etc. This ensures that your loved one's wishes are met through the guarantee of financial security and effective healthcare. Now you may ease your concerns about the financial and healthcare aspects of your parent's care. The power of attorney guarantees that you will be able to act on their behalf if you are the selected agent. Therefore, you will be able to care for your parents even if you are not physically beside them every step of the way.
Health Care Proxy:
A Health Care Proxy is a document in which the patient selects an agent who will be responsible for making their medical decisions for them. When the patient is unable to make their own decisions concerning their health and overall well-being, the healthcare proxy will be the one responsible for making the imperative medical decisions. If you are the agent declared on the healthcare proxy documentation, then you are the one responsible for making all of the decisions concerning your parents health and well-being. This guarantees thay you do not have to worry about other individuals making decisions on behalf of your parents without any input from you. This is a way for you to oversee your parents health even if you are not constantly taking care of them. You should not have to choose between working full time to prove for your family, moving from a different state of residence, not being able to care for your children after school, in order to become your parent's caregiver. There are a variety of different ways in the modern world to care for your elderly parents without having to quit your job and other responsibilities.
COVID-19 Concerns:
With the pandemic in full force, you are most likely even more concerned about the care of your elderly parents. The constant worrying if your parents have food in their fridge, if they are taking their medications, if they are safe can all be reduced and even avoided by taking the first step in hiring an Elder Care Attorney today. You deserve to know that your parents are in good hands without having to feel guilty for not being the one to physically care for them. You should not quit your job and risk being unable to pay rent and purchase necessities just so that you can can care for your aging parents, especially during the pandemic that has caused great instability within the current economic state of the United States. The final decision is yours. With the proper documents completed, you will be the one in charge of making all of the most important decisions concerning your parent's well being. Make the decision today to hire an esteemed Elder Care Attorney who will guarantee that you will be able to care for your aging parents even if you can't be there in person.
For further Estate Planning information please contact the Law Office of Inna Fershteyn at 718-333-2395 to best prepare for your future through will drafting, power of attorney, health care proxy, and living will documentation.